Olympic cross country team & BMX members

Below is a list of articles and information about the athlets in the cross country Olympic Games.
Click on the links to folow articles.
Olympic Team members prove why they made the cut at cross country nationals. – Click here  Make sure you press Next there are several pages to this article.
USA Cycling Reveals Retro Team Kit for London Olympics – Click here
Other cycling gear in a picture provided by Sam Schultz on Twitter

Todd Wells – 3rd attempt at Olympics
Rider stats- http://www.usacycling.org/todd-wells.htm
Twitter page – https://twitter.com/yotwells
Interview with Newsday New York – Click here
Video Cycling Dirt at USA Cycling Mountain Bike National Championships – Click here
Sam Schultz – 1st Olympics
Rider Stats – http://www.usacycling.org/sam-schultz.htm
Twitter page – http://twitter.com/sam_schultz
Facebook – https://www.facebook.com/samschultz13?sk=wall
Interview on Cycling Dirt winning 2012 USA Mountain Bike National Championships – Click here
Georgia Gould – 2nd Olympics
Rider Stats – http://www.usacycling.org/georgia-gould.htm
Facebook – https://www.facebook.com/gouldgeorgia
Article Cyclingnews.com – Click here
Lea Davison – 1st Olympics

Rider Stats – http://www.usacycling.org/lea-davison.htm
Twitter page – https://twitter.com/leadavisonbikes
Blog – http://in-the-arena-leadavison.blogspot.com/
Facebook – https://www.facebook.com/pages/Lea-Davison/232024736886611
Intervidw on NECN.COM – Click here
Vermont Public Radio audio newscast training program for race - Click here
Video of BMX Olimpic Trials – Click here
12 Things… you might not know about BMX – Click here
BMX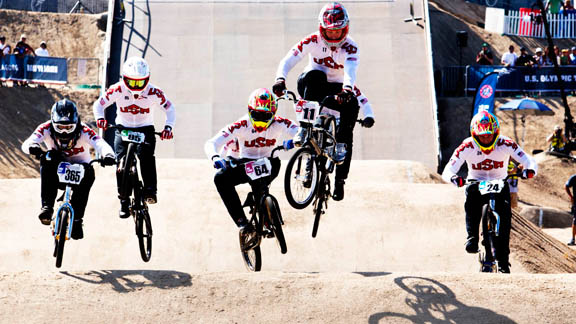 USA's BMX Olympic Racing Team Named for 2012 Olympics – Click here
Due to a injury Crain is to replace Martin – Click here
Fields, Long, Post join Team USA ESPN – Click here
Team USA Suits Up – Click here
Supercross World Cup in London 2011 same course of Olympics - Click here
Uniform Helmet and frame – Click here
Conner Fields
Rider Stats – http://www.usacycling.org/connor-fields.htm
Connor Fields earns BMX berth ESPN – Click here
Randaberg SX Winners 2012 – Video – Click here
Vote for Sean Dwight in Connor Fields' Oly Story – Click here
David Herman
Rider Stats – http://www.usacycling.org/david-herman.htm
Twitter – https://twitter.com/zHermanator
David Herman BMX in Dacono Colorado video – Click here
Podcast: David Herman on Being a BMX Olympian - Click on play button below Listen now in article
BMX racer David Herman of Wheat Ridge hopes strong starts yiels golden finish – Click here
David Herman, Olympic BMX athleat interview – Click here
Nic Long
Rider Stats – http://www.usacycling.org/nic-long.htm
Twitter – https://twitter.com/niclong64
Lakeside's Long new face of Olympics 3 page article interview - Click here
BMX Fans to Gather for Olympic Time Trials – video on page – Click here
BMX Jumps Won't Hurt if I Die video – Click here
Nic Long would love to leave his mark on BMX USA Today - Click here
Brooke Crain
Rider Stats – http://www.usacycling.org/brooke-crain.htm
Twitter – http://twitter.com/brookecrain32
Facebook – https://www.facebook.com/brooke.crain.7
Visalia's Brooke Craine to compete in BMX at Summer Olympics – Click here
Meet the Latest Young BMX Star – Brooke Crain – Click here
Meet BMX racing star Brooke Craine of Visalia – Video – Click here
Alise Post
Rider Stats – http://www.usacycling.org/alise-post.htm
Twitter – https://twitter.com/alisepost11
Website – http://www.redlinebicycles.com/rider/alise-post11
BMX National Championships video interview – Click here
BMX rider Alise Post in Olympics after two major injuries – Click here
Profiling the Future of American cycling – Click here
Debute of Olympic Frames – Click here
Alise Post is 'the beast' on a BMX bicycle – Click here
Without Courage, BMX rider Alise post might not be an olympain today – Click here
Family helped BMX rider Alise Post Acheve her Olympic Dream – Click here
St. Cloud Native Alise Post Gunning for BMX Olympic Gold - Click here